Work continues on huge rear dormer for Complete loft conversions
Haven't posted for a while as been extremely busy with a large flat roof dormer on a Victorian detached property in Foxhall Road Ipswich for an extremely pleasant client and there family below we can see the front of property.
We were commissioned to convert the current three bedroom home, into a four bed-roomed three storey loft conversion with stunning views over Ipswich.
We have currently installed the new floor stairs, steel flat roof and clad the cheeks of the dormers with finer cent slate which can be vertically hung.
.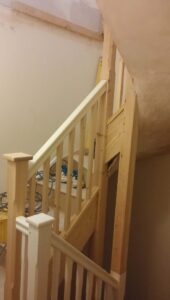 The loft conversion will incompass a large bedroom with good sized en-suite and a custom built walk in wardrobe over 30 square meters of conversion with side and fold rear doors to a stylish glass Juliet balcony we have also installed three velux and reproofed the entire front of the property with the existing welsh slate.
As we can see from the picture the whole roof has been stripped of slate for the rear dormer and from the front to be  membraned as there was no felt
Below we can see the main room of the conversion from the bifold door postion
We have also insulated the flat cold roof with 160mm celotex and the exterior walls with 100mm and the internal walls with 70mm.